How to Get Here
East Point City is situated in 8 Chung Wa Road, the heart of Tseung Kwan O. The mall is well-connected with diverse means of public transport including bus, minibus, MTR and shuttle service. It is also highly accessible for drivers.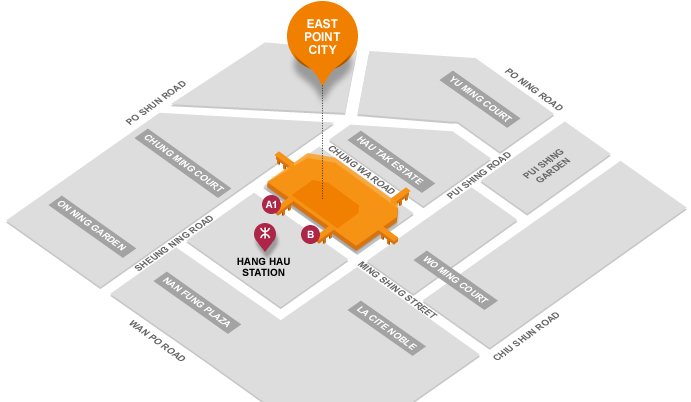 Go To 
EPC
Getting there from Kowloon
Go through Tseung Kwan O Tunnel and follow the guideboard to Hang Hau. Follow Po Shun Road and take the first right exit of the roundabout to Po Ning Road. Drive along to Chung Wa Road and turn right to East Point City.
Getting there from Kowloon
Drive along Hiram's Highway (Pak Sha Wan section) to Clear Water Bay Road (Tai Po Tsai). Follow the guideboard to Hang Hau Road to Po Ning Road. Take a second left exit of the roundabout on Ying Yip Road to Chung Wa Road and turn right to East Point City.
Parking Fees
| Parking Rate | Per Hour |
| --- | --- |
| Mon-Fri | $15 |
| Sat-Sun & PH | $18 |
Free Parking Promotion
Enjoy Free Parking on Shopping
| Purchase Amount | Entitled Free Parking Hours |
| --- | --- |
| HK$200 | 1 hour |
| HK$400 | 2 hours |
| HK$600 | 3 hours |
Customer with spending up to a designated amount at East Point City may redeem for free parking hour(s) as shown in the above table at our Customer Care Centre located at Level 2 (a maximum of 2 on-day machine-print invoices from different shops are allowed).
Please visit our Customer Care Centre for the details regarding the 'Free Parking Redemption'.
Transportation
Bus
91M, 98A, 98C, 98S, 296M, 297, 298E, 692, 798, 893, E22A, N293, N691
Mini-bus
11, 11A, 11M, 15A, 16, 101M, 102, 102B, 102S, 108A, 109M
MTR
Exit A1 MTR Hang Hau Station
Free Shuttle Bus (This service will suspend from 1st September, 2022)
Sai Kung Route
Available on Saturday, Sunday & Public Holiday
Sai Kung North Pubic Transportation Interchange
12:00nn – 7:30pm
East Point City
12:40nn – 8:00pm
Frequency :12:40、 13:10 、13:40、14:10、14:40、 15:10、15:40、16:10、17:40、18:10、18:40、19:30、20:00
Customer spending $20 at East Point City with valid receipt can redeem 1 shuttle bus ticket to Sai Kung at Customer Care Centre (Maximum 5 tickets can be redeemed per redemption).
Please visit our Customer Care Centre for the details regarding the 'Free Parking Redemption"
East Point City (East Kowloon) Express (resume service on 8 January 2023)
East Point City -> Shenzhen Bay Ports (via Kwun Tong & Wong Tai Sin, service period: 09:15 – 17:45 (around 20 – 30 minutes per coach,  18 coaches per day )
Shenzhen Bay Ports -> East Point City (via Kwun Tong, Ngau Tau Kok & Wong Tai Sin,  10:15 – 19:45 (around 20 – 30 minutes per coach,  20 coaches per day )
Fares: (Single-trip Ticket) HK$60 (Round-trip Ticket) HK$100
Boarding at G/F Cross Border Coach Terminal
Please visit 1/F Cross Border Coach Ticket Office (near UNIQLO) for queries or purchase ticket (operation hour: Daily from 08:45)
Enquiry Hotline: (852) 2230 3030
East Point City to Artificial Islands of Zhuhai & Marcao BCFs Express (Temporarily Suspended)
East Point City to Artificial Islands of Zhuhai & Marcao BCFs
Duration: around 90 minutes
Frequency (15 coaches per day):08:50、09:20 、09:50、10:20 、10:50、 11:20、11:50、 12:20、12:50、 13:20 、13:50、14:20、14:50、 15:20、15:50
Fares: (Single-trip Ticket) HK$120 (Round-trip Ticket) HK$220
Boarding at G/F Cross Border Coach Terminal
Please visit 1/F Cross Border Coach Ticket Office (near UNIQLO) for queries or purchase ticket
Enquiry Hotline: (852) 3107 8991 (East Point City) / (852) 2979 8778 (Hong Kong)